Free Entries Good for ANY Birkie Ski, Run, or Bike Event!
Hayward, Wis. (May 2, 2018) – Slumberland Furniture and the American Birkebeiner Ski Foundation welcome you to another year of the "Ready, Set, Sleep!" program. Purchase any Tempur-Pedic mattress from Slumberland Furniture and get 2 free entries to ANY year-round Birkie event, including any Birkie Week ski event in February, the Fat Bike Birkie in March, the Birkie Trail Run in September, or the BirkieTour in January.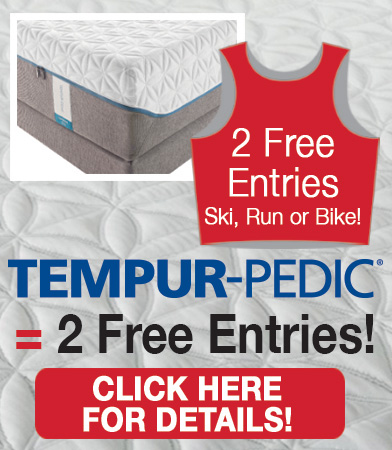 This is a way for you to take great care of yourself before and after you train and otherwise live your Birkie lifestyle year-round. Recovery is a key component to being active on the trail or just being at your best for a marathon day at work or school.
Slumberland Furniture, Title Sponsor of the American Birkebeiner ski race and year-round Birkie Lifestyle, has made this program available through any of its stores in 12 states across the central U.S. Purchase any Tempur-Pedic mattress or mattress set from Slumberland and get 2 free entries to any 2 year-round Birkie events of your choice.
How It Works:
Purchase your new Tempur-Pedic mattress or mattress set at any Slumberland store, which are in these 12 states: Illinois, Iowa, Kansas, Michigan, Minnesota, Missouri, Montana, Nebraska, North Dakota, South Dakota, Wisconsin, and Wyoming. To find the Slumberland store nearest you, visit Slumberland.com.
Contact the Birkie office, email your sales receipt, and the Birkie will take care of the rest. You will receive a personal code to use when you register for any 2 Birkie events. Use the entries on your own events or share them with family and friends.
Free entries are valid even if registration for your chosen event has closed, including the Birkie, Korte, and Prince Haakon events. However, you must use your code by the deadline for comp entries posted for each event. See registration details for each event. Wave placement for ski events, as usual, is subject to availability at the time you register.
FAQ:
Q. I already registered for a Birkie event. Can I still do this?
A. Absolutely! Use your entry for an event this year or the next.
Q. How do I get my free entry?
A. Please take a picture of your receipt and email it to the Birkie at: birkie@birkie.com. The Birkie will contact you to take care of your entry.
Q. What if I don't live in one of the 12 Slumberland states?
A. We are currently only able to offer this in the Slumberland service area. If a road trip is not an option, let us know. There may be more options in the future.
"We're very proud to be the title sponsor of the American Birkebeiner and a partner in promoting the Birkie Lifestyle," said Tom Hedrick, VP of Marketing, Slumberland. "At Slumberland, we're committed to the health and well-being of our customers through restful sleep and a comfortable home. It's a natural fit to tie a premium sleep experience like Tempur-Pedic to the exhilaration of participating in a Birkie event, and we're happy to offer this unique opportunity to Birkie fans everywhere!"
"We have a great partner in Slumberland Furniture! Promoting and supporting a healthy lifestyle is at the core of what they do, too," said Ben Popp, Executive Director of the American Birkebeiner Ski Foundation. "We're all excited about this Tempur-Pedic program.
Hopefully it gets folks inspired to get out and be active, then recover in the best possible way."
Slumberland Furniture and the Birkie look forward to helping you make the most of this Ready, Set, Sleep! program. Please email or call the Birkie with any questions. Email birkie@birkie.com or call 715-558-6674.
Posted May 3, 2018 at 5:09 pm